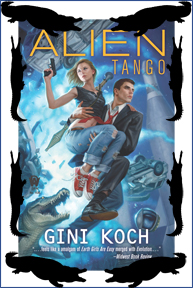 Well now, I'm not sure if you guys have heard about this AWESOME little thing called "The Gator Battle" that Gini Koch is doing, so its pretty great, and you get nominated by a fellow blogger for the "Gator Award", you have to be worth your weight in a 'gator battle' though, so if your nominated spread the love. I was nominated by the perpetually awesome Becky at the
Bibliognome
, super sweet blog btw, you all should check that out, and I chose 5 bloggers who I believe are worthy. If you have any questions check out Gini's website
HERE
.. She is giving away tons of cool stuff for the "Gator Battle"... If you get nominated E-Mail Gini and let her know (
gini@ginikoch.com)
... all the instructions are on her website.
She's Giving Away
Touched by an Alien
Alien Tango
Close Encounters: An Alien Affairs Novel, Book 1
& more.. Pretty sweet aye?
I nominate.........
1.Shera at
Book Whisper
because she's pretty epic, and I love her blog!
2.Smash at
Smash Attack Reads!
again she's just awesome.
3.Angie at
Angieville
can't be giving out awards for worthy folk without including her..
4.& a new to me blogger who tried to warn me Supernatural wasn't
on last week, but I didn't listen Darla at
DisForDarla's Definite Reads
5.Brittany at
Nice Girls Read Books
I hope you like these kind of books, oh well nominated you :]